Toyota Hybrid Vehicles

Toyota Canada currently offers 7 different 2019/2020 Toyota Hybrid models: 2020 Corolla Hybrid , 2019 Camry Hybrid, 2019 Highlander Hybrid, 2019 RAV4 Hybrid, 2019 Prius, 2019 Prius C and 2019 Prius Prime.
Did you know that a hybrid vehicle's powertrain can produce up to 70% less smog forming emissions than conventional gas vehicles? it's true! Not only are you helping the environment, but you're also saving on fuel!
Toyota Hybrid Fuel Efficiency Compared to Gas Models

2019 Toyota
Highlander Hybrid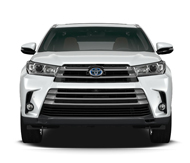 8.1/8.5
(City/Hwy)
vs.
2019 Highlander
11.8/8.7
(City/Hwy)
2019 Toyota
Prius C

4.9/5.5
(City/Hwy)

When Does a Hybrid Use Gas or Electric Mode?

Starting your Hybrid - When you first start your Toyota Hybrid, your vehicle will engage it's electric motor allowing you to save fuel. You won't hear the engine, the vehicle will display a READY light on the dashboard.
Accelerating and driving your Hybrid - Doing things like accelerating to pass another vehicle on the highway or driving around the city around uses both gas & the electric motor to power your Hybrid.
Braking your Hybrid - When your brake in a Toyota hybrid vehicle, your electric motor takes over and the vehicle stops using gas.
Stopped - Your Hybrid vehicle uses the eletric motor to slow down and stop your vehicle. The regenerative braking system converts your braking energy into electric energy to recharge the battery.
Reversing  your Hybrid - When reversing your vehicle, the engine uses the electric motor to reverse at slow speeds.