Our Toyota Genuine accessories and Thule accessories are available to specially fit your 2020 Toyota RAV4. If you have any questions about our Corolla accessories, please fill out the form and a member of our Parts Team will be in touch shortly.
Did you know that you can include accessories into your monthly payment when buying a new car? Ask your Product Advisor for more details!
*We try our best to ensure pricing is accurate. However, please note that our prices are subject to change and should be confirmed with our Parts Department prior to purchasing.

RAV4 Hood Deflector

A hood deflector offers your RAV4 high impact resistance and reduces the potential damage to your hood from road debris. Made from a thick high-grade tinted acrylic, it will protect your brand new RAV.
Includes Installation | $232.50 +hst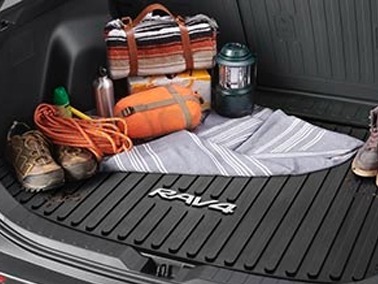 RAV4 Cargo Liner
The cargo liner features an innovative split design that protects your cargo area as well as the back of the rear seats. The anti-slip surface features a raised perimeter lip to help keep spills contained.
Includes Installation | $177.50 +hst

RAV4 Cargo Net

The RAV4 cargo net features a braided netting with elastic closure that is secured by tie-down rings in the back to keep everything from shifting around.
Includes Installation | $82.50 +hst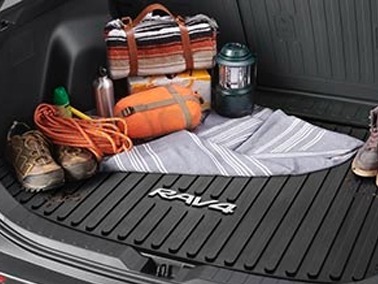 RAV4 Auto-Dimming Rearview Mirror with HomeLink
Using sensors built into the mirror, this auto-dimming rearview mirror will provide progressive dimming. This mirror also comes with a integrated digital compass with eight directional readouts and integrated homelink functionality that allows you to operate a garage door opener.
Includes Installation | $510.00 +hst

RAV4 Toyota Genuine Dash Camera

Safely record the open road while keeping your eyes on the road. Never miss a moment in motion; capture it! The RAV4 Genuine Dash Camera allows you to record the surroundings of your vehicle while it is parked.
Includes Installation | $660.00 +hst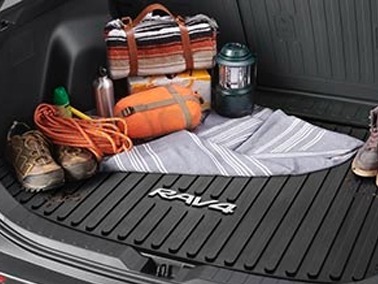 RAV4 LED Fog Light Kit (Available in black or chrome)
High performance LED fog lights enhance visibility by providing a brighter light with a higher lumen output as well as extra wide coverage angle for increase visibility of surroundings. 
Includes Installation | $586.25 +hst

RAV4 Pro Series Paint Protection Film

Guard your vehicle from weathering, UV radiation and road debris that can chip and scratch the finish with 3M Pro Series Genuine Toyota Paint Protection Film.
Includes Installation | $450.00 +hst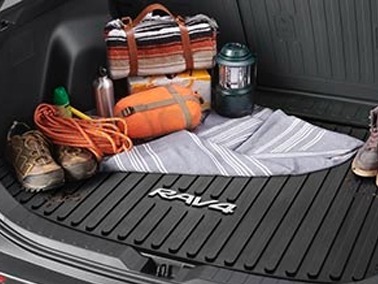 RAV4 Side Window Deflectors
Adding side window deflectors will minimize wind noise when driving with your windows open, allowing you to breate in the fresh air without worrying about wind, rain or snow.
Includes Installation | $307.50 +hst

Thule Chamber 2 - Bike Hitch
The Thule Chamber bike hitch was designed with integrated anti-sway that prevents the bikes from bumping into each other. Works with class 1 receiver and fits 1.25" and 2" receivers.
Thule Chamber 2 - Fits up to 2 bikes
Thule Chamber 4 - Fits up to 4 bikes
 | $ +hst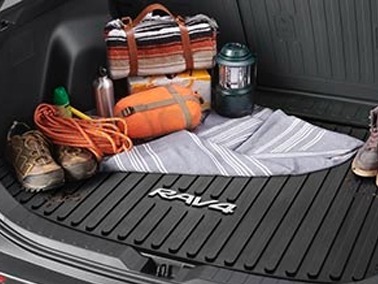 Thule Transporter Combi
This Thule hitch cargo box comes with pre-wired tail lights and has a tilt-down design that allows partial access to your trunk.
 | $ +hst