Accessories For Your 2020 Toyota RAV4
Our Toyota Genuine accessories and Thule accessories are available to specially fit your 2020 Toyota RAV4. If you have any questions about our RAV4 accessories, please fill out the form and a member of our Parts Team will be in touch shortly.
Did you know that you can include accessories into your monthly payment when buying a new car? Ask your Product Advisor for more details!
*We try our best to ensure pricing is accurate. However, please note that our prices are subject to change and should be confirmed with our Parts Department prior to purchasing.
RAV4 Hood Deflector | $237.50 + HST (Includes Installation)
A hood deflector offers your RAV4 high impact resistance and reduces the potential damage to your hood from road debris. Made from a thick high-grade tinted acrylic, it will protect your brand new RAV.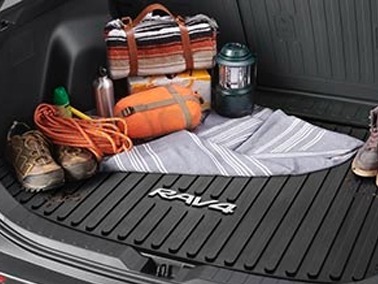 RAV4 Cargo Liner | $178.50 + HST (Includes Installation)
The cargo liner features an innovative split design that protects your cargo area as well as the back of the rear seats. The anti-slip surface features a raised perimeter lip to help keep spills contained.
RAV4 Toyota Genuine Dash Camera | $672.01+ HST (Includes Installation)
Safely record the open road while keeping your eyes on the road. Never miss a moment in motion; capture it! The Dash Camera allows you to record the surroundings of your vehicle while it is parked.
Watch YouTube Video About Toyota Genuine Dash Camera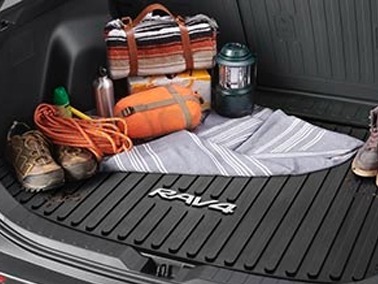 RAV4 Side Window Deflectors | $312.50 + HST (Includes Installation)
Adding side window deflectors will minimize wind noise when driving with your windows open, allowing you to breate in the fresh air without worrying about wind, rain or snow.
RAV4 Cargo Net | $83.50 + HST (Includes Installation)
This flexible and stretchable, nylon-braided net secured by tie-down rings in the rear cargo area prevents items from shifting around while on the road.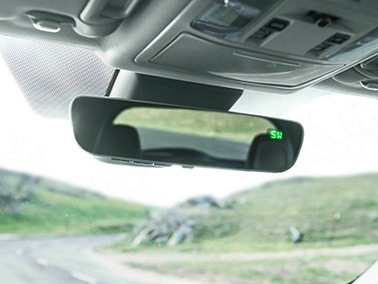 RAV4 Auto-Dimming Rearview Mirror with Homelink | $520.00 + HST (Includes Installation)
The auto-dimming rearview mirror with homelink provides automatic progressive dimming to eliminate glare. The HomeLink features allows drivers to connect a garage door opener.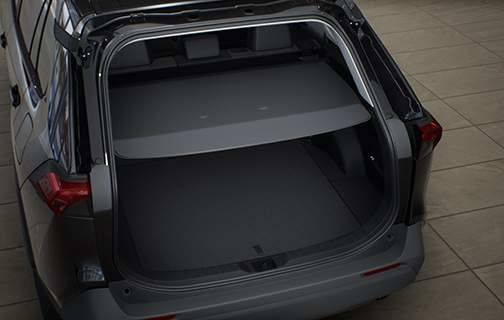 RAV4 Cargo Cover | $348.50 + HST (Includes Installation)
The RAV4 cargo cover conceals your rear cargo area from view for privacy and added peace of mind.

RAV4 Universal Tablet Holder| $111.85 + HST (Includes Installation)
This universal tablet holder can attach to the headrest of any Toyota vehicle. It's great for holding your tablet or video player in place.
RAV4 Door Sill Protectors | $232.50 + HST (Includes Installation)
Door Sill Protectors help guard against scuffs and scratches. Not only are they functional, but they also provide a styling accent that is immediately noticed when entering the vehicle.
RAV4 Body Side Moulding | $287.50 + HST (Includes Installation)
Protect your vehicle from dings and bumps, while adding a touch of elegance to your vehicle's exterior. Constructed from highly durable material, the Body side Mouldings offer long-lasting protection from any type of minor incidental contact to the sides of the vehicle.
RAV4 Premium Plug-In Block Heater | $503.50 + HST (Includes Installation)
This custom-designed Block Heater not only warms your vehicle up quicker, but also reduces engine strain and wear. The system also helps to save fuel and battery power during startups, and the strain relief electrical cord reduces cord damage.
RAV4 Roof Rack Cross Bars | $437.50 + HST (Includes Installation)
The Roof Rack Cross Bars are engineered specifically to integrate with the RAV4's roof rails. This set of two fully adjustable Cross Bars provide additional secure tie-down points for all types of roof rack accessories and can support a maximum of 45 kg (100 lbs) when evenly distributed across both bars.
RAV4 Running Boards | $738.75 + HST (Includes Installation)
Not only do Running Boards assist with entering a vehicle, they also help protect the lower body from road debris. The Running Boards feature a skid-resistant surface to help ensure secure footing, as well as fitting end caps for an integrated look and finish.